WhatsApp is one of the popular social media messaging platform by meta. It provides tons of daily useful features like direct messages, voice and video calling, etc.
WhatsApp is available for various platforms like Android, iOS, Windows, etc. Most people uses Whatsapp to communicate with family members, friends and relatives.
Well we all know that What is available on Android and iOS. It also provides cloud backup on Android (Google Drive) and iOS (iCloud). But the problem arises only when an android user switches to iOS and wants to transfer WhatsApp data from Android to iOS.
There are various paid softwares that provides Android to iOS transfer But Aren't an official ones. But, Recently Meta CEO Mark Zuckerberg announced that Whatsapp has officially supported android to iOS transfer feature.
Currently This feature is available on WhatsApp Beta version. So, You need to update your WhatsApp to beta version. You can follow the below guide to transfer WhatsApp data from Android to iOS.
How to Transfer WhatsApp Data from Android to iOS?
Before proceeding, make sure you're connected to the same wifi network.
1. First of all, Download the WhatsApp Beta Version app from your here.
2. Update your WhatsApp app to beta version by installing the beta version.
3. Now, Download and Install Move to iOS app on both Android and iOS from Play Store and App Store.
4. Open the app on Both Android and iPhone. In iPhone it'll give a 6 digit code. You need to enter the same code on Android.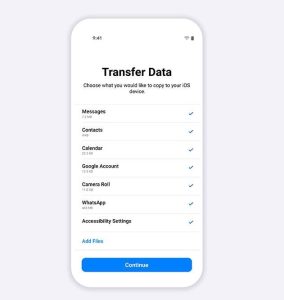 5. In Android, Select the WhatsApp from a transfer list in the app.
6. It'll transfer WhatsApp data from Android to iOS.
7. It'll take time if your data is big in size. So, Make sure your iPhone and Android battery are fully charged.
Note – Make Sure your iPhone is updated to the latest version.
Thanks for reading this article. If you found this article interesting and helpful, let me know in the comments section and also share it with your friends. Follow our Telegram Channel for more Android hacks, How to Guides, etc.