Magisk latest stable version has recently been released. It comes with new features, addons and fixes from the previous version. It has new improvements from magisk v24. You can download Magisk v25.0 and magisk manager app right now.
About Magisk
Magisk is one of the popular tools to gain root access on android based devices like smartphones, tablets, etc. It not only provides root access but other features that are very useful. It also provides the functionality of Modules (similar to Xposed modules). You can customize your android using magisk modules and revert back to the default one by removing the magisk modules.
It is a systemless root method that modifies/customizes the android system without actually modifying it. It is one of the best way to bypass google's safety net. To install the magisk there are three different ways to install it on your android phone. You can checkout here.
Recently, Magisk creator topjohnwu released the new stable magisk v25.0. It has various improvements, fixes, device addons, etc compared to the previous version. Here is the changelog of Magisk v25.0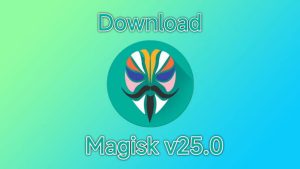 Magisk v25.0 Changelog
[MagiskInit] Update 2SI implementation, significantly increase device compatibility (e.g. Sony Xperia devices)
[MagiskInit] Introduce new sepolicy injection mechanism
[MagiskInit] Support Oculus Go
[MagiskInit] Support Android 13 GKIs (Pixel 6)
[MagiskBoot] Fix vbmeta extraction implementation
[App] Fix stub app on older Android versions
[App] [MagiskSU] Properly support apps using sharedUserId
[MagiskSU] Fix a possible crash in magiskd
[MagiskSU] Prune unused UIDs as soon as system_server restarts to prevent UID reuse attacks
[MagiskSU] Verify and enforce the installed Magisk app's certificate to match the distributor's signature
[MagiskSU] [Zygisk] Proper package management and detection
[Zygisk] Fix function hooking on devices running Android 12 with old kernels
[Zygisk] Fix Zygisk's self code unloading implementation
[DenyList] Fix DenyList on shared UID apps
[BusyBox] Add workaround for devices running old kernels
Download Magisk v25.0 and How to Install?
You can download the Magisk v25.0 zip file from here or the Official Github repo.
If you are using the previous Magisk version. Open Magisk Manager and Install the latest version by Tapping on Install Button.
If magisk is currently not installed on your phone, You can checkout three ways to install Magisk v25.0 on your android phone.
Thanks for reading this article. If you found this article interesting and helpful, let me know in the comment section and also share it with your friends. For more interesting android hacks, and how-to guides, Join our Telegram Channel.