Telegram is one of the popular social media messaging application globally. It is free to use forever. It contains bunch of features that other social media apps haven't. But, It seems that Telegram has been working on premium features that can be availed by paying a monthly subscription fee.
About Telegram
Telegram is a popular Social media messaging application. It provides unlimited cloud storage. It also provides features like Channels with unlimited audiences, Groups with up to 200,000 members, Bots support, Voice and Video calls, Live Streaming on Channels, Animated stickers, and much more.
There were some limitations while using Telegram like You can upload up to 2GB of files in telegram at once. You can pin channels/groups up to 5 on top. You can create limited folders up to 10, etc. But, Now Telegram is going to launch a Premium subscription soon where you will get premium features, increased limit, and much more.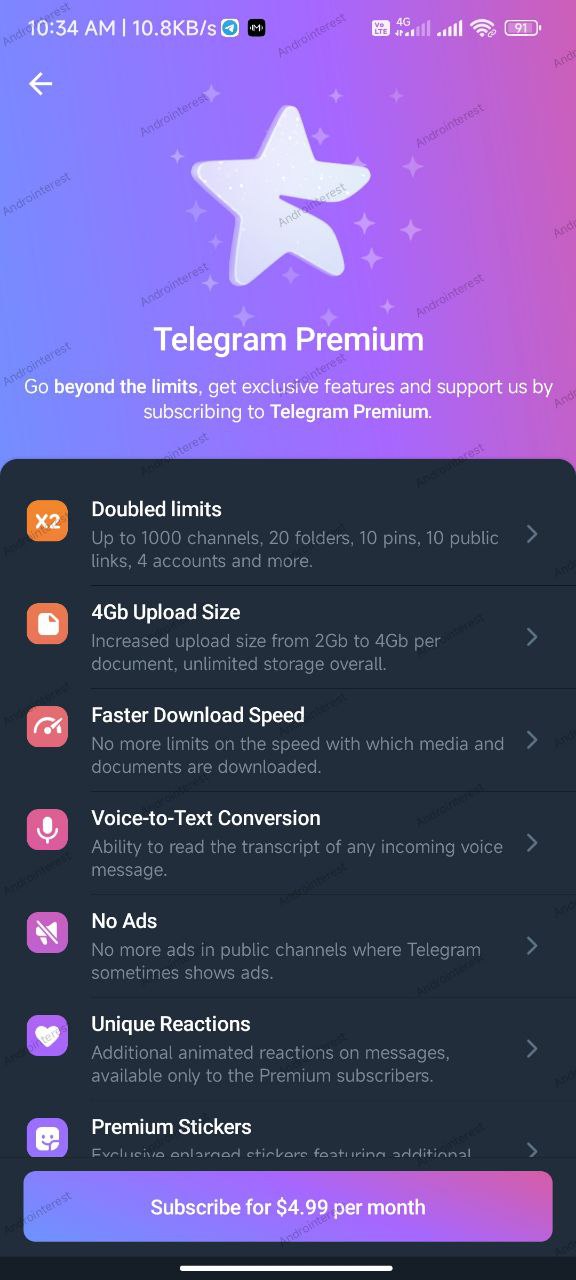 Telegram Premium Features
1. Doubled Limits – With the telegram premium subscription, You can join up to 1000 channels, create 20 folders, Pin up to 10 chats/channels, etc.
2. Upload Size – Right Now, you can upload up to 2GB of File on telegram. But, You will be able to upload up to 4GB file size on premium.
3. Download/Upload Speed – There are some limitations on downloading or uploading on telegram. But, with the premium subscription, you will be able to download/upload at unlimited speed.
4. Ads – Currently There are no ads on telegram. But When the Telegram premium will be launched, Free users will see ads while Premium users won't see any ads.
5. Premium Stickers – Telegram will also introduce premium stickers that will be only available to premium users.
6. Chat Management – In Telegram Premium, There will be advanced chat management where you can set the default folder, auto-archive, and hide chats.
7. Animated Avatars – Telegram Premium will also provide animated avatars to choose from.
8. Voice to Text Conversion – You will also be able to convert your voice into text with a premium subscription.
More features will be unveiled soon.
Telegram Premium Pricing
Telegram Premium will be available at a monthly subscription of $4.99. Currently, Telegram Premium is available on Telegram Beta on Android and iOS. But, You can't subscribe right now.
Thanks for reading this article. If you found this article helpful and interesting, let me know in the comments section and also share it with your friends. For more interesting android hacks and the latest tech updates, join our Telegram channel.