Apple recently announced new iOS 16 on the apple WWDC Summit it announced new features and improvements in upcoming iOS 16 for iPhones. With this new version, It also comes with new wallpapers which you should try. You can download iOS 16 wallpapers in this article below.
Apple's new iOS 16 will feature new lockscreen design, new features in iMessages like edit or Undo sent messages, Mark messages as unread, new improvements in Apple Maps, new features in apple wallet, and much more.
Apple's new iOS 16 also have some new homescreen wallpapers. If you were eagerly waiting for iOS 16 stock wallpapers, then it's time for you download and apply on your phone.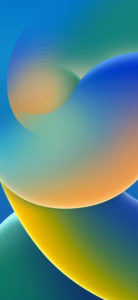 Download iOS 16 Wallpapers for any Android Phone
1 . First of all, Download the iOS 16 homescreen wallpaper from here.
2. Copy and Paste it on your phones.
3. Apply the wallpaper using any Wallpapers app.
4. Enjoy the newly applied wallpaper.
Thanks for reading this article. I hope you liked the new article. If you have any suggestions, let me know in the comments section. Follow us on Telegram for more smartphone wallpapers, Apple tricks, Android hacks, etc.